To continue the fight against Covid-19, healthcare providers and patients need affordable and timely access to medical devices such as ventilators. But how do we reconcile patients' right to health with copyright protections of essential devices?
On 23 October, George Hwang moderated a discussion of this intersection between copyright and health, at the first virtual Licensing Executives Society (LES) APAC Conference 2020. On the panel were Anand Grover, Prof Paul Tambyah, Patrick Cantrill and Dr Choo Beng Goh.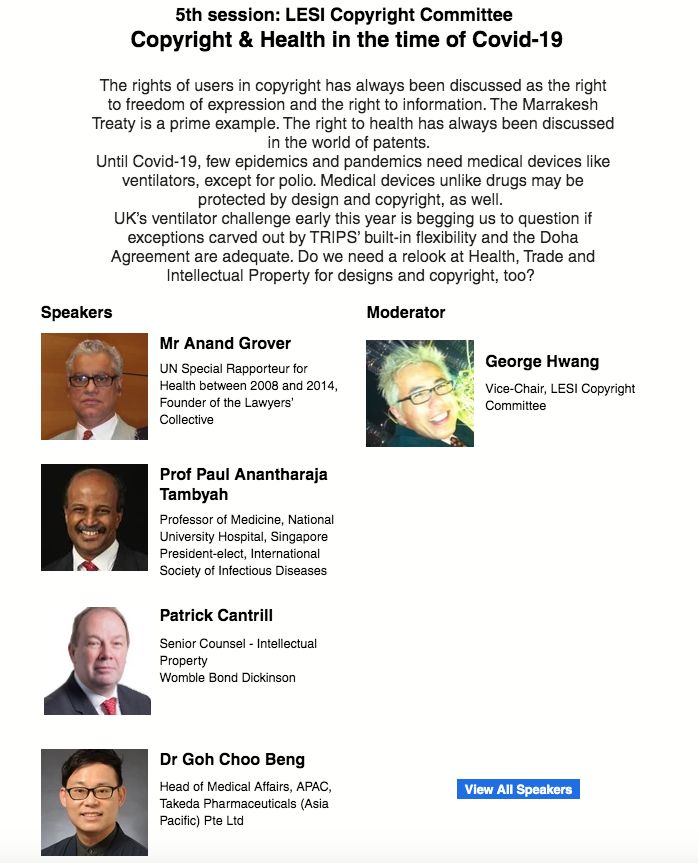 We learnt:
1. about the use and sharing of data in vaccine research.
2. that the lack of ventilators in the UK prompted lobbyists to voice the need to expand provisions on fair use in copyright law.
3. that at the international level, Costa Rica has sponsored an initiative at WHO — a Solidarity Call to Action for equitable global access to Covid-19 health technologies. Yet few IP-rich countries have endorsed it, unfortunately.
This ongoing pandemic has unmasked the alarmingly lopsided distribution of life-saving medical devices in the world. This must be put right by foregrounding human rights and moral imperatives, not just economic concerns, in discussions of IP.